A BRIEF HISTORY OF THAMES CRESCENT
A private Estate of 19 houses and 13 apartments, the first residents moved here in 1996. We are fortunate enough to enjoy uninterrupted views across the river to the Leg o' Mutton reservoir and enjoy the sight of cormorants, herons, tufted ducks and the many rowers in eights and fours, out on the river no matter what the weather.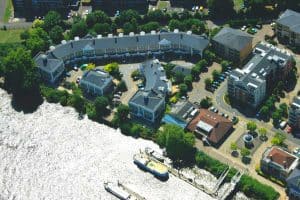 The land is part of historic Old Chiswick and was a fishing village during the 12th Century. Even today you can see remnants of that time – the little island north of here is Chiswick Eyot and the special willows (Osiers) growing there were used to make oyster baskets. They are still harvested today and sold to country crafts people outside London.
The beautiful church of St Nicholas is on a site which had a church as long ago as the 11th Century. It's graveyard contains the tomb of the satirical artist William Hogarth (whose house is nearby) and the graves of Oliver Cromwell's two daughters. There's a story that Cromwell's headless body was buried next to his daughters……but don't let that put you off !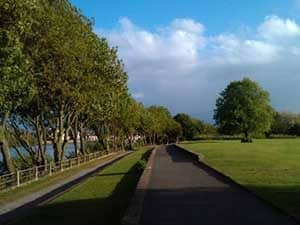 Amenities within walking distance include the amazing English Heritage property, Chiswick House. The Palladian-style villa built by Lord Burlington in the 18th Century is surrounded by beautiful Italianate grounds. Hogarth's House is at one corner. Duke's Meadows lies to the south and has a children's playground and pool, a small cafe and acres of grass. It is also the location for one of London's best health & sports centres, the Riverside Club. Every Sunday from 10am till 2.00pm the best countryside produce is available at the Farmer's Market.
If you want to use the river, drop into the Chiswick Pier Boat House for a chat with members of the Pier Trust. There are temporary moorings available and a canoe rack on the pier. Sailing is available at the Old Corinthians Sailing Club along the path at Hammersmith, or at Strand-on-the-Green.
Walking, jogging or cycling in this area is wonderful – using the riverwalk path you can easily reach Putney, Hammersmith and Barnes without crossing any busy roads. The Thames Path actually goes as far as Oxford – Kew Gardens is about 30 minutes by bike, and Richmond a further 30 minutes. For tennis fans, there are 4 good hard courts at Chiswick Lawn Tennis Club – a 10 minute walk away at the corner of Staveley Road. There's also an excellent swimming pool with gym 50 metres away from our entrance in Edensor Road.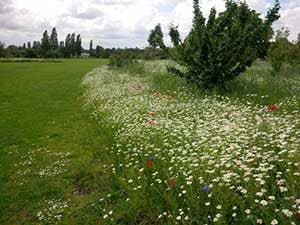 The world's largest urban wetlands site, designed and operated by the World Wide Fund for nature, is just a couple of miles away – off Castelnau in Barnes. 125 acres of lakes and landscaping – home to 100 breeds of waterbird.
A convenience store & newsagents is on Edensor Road, opposite the pool. More shops & restaurants are just north of the A4 on Chiswick High Road – there are at least 40 restaurants with almost as many styles of cooking : French, Italian, Indian, Chinese and Bistro Pubs to name a few. A 10 minute walk away or a very short bus ride away (see transport below) takes you to a charming bar restaurant, Little Bird, opposite Chiswick Station on Burlington Lane, currently open from 5.00pm Monday to Saturday.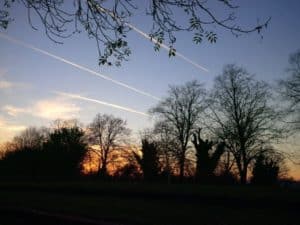 Public transport is easy – the E3 bus runs every 8 minutes from the end of the road, it connects to both the mainline & tube stations. The nearest rail station is Chiswick (10 minutes walk), which connects to Waterloo in 20 minutes. The nearest London Underground is about 20 minutes walk: Turnham Green (District line).
Nearest supermarkets: Sainsburys (5 minutes drive over Chiswick Bridge towards Richmond on the A316), Tesco at Brook Green, Hammersmith and on the A4 at Earls Court, Sainsburys and Marks & Spencer on Chiswick High Road. For speciality shops, try Turnham Green Terrace & Devonshire Road off the High Road for a range of fishmongers, delis, butchers & greengrocers.
Local info also available at www.chiswickw4.com.